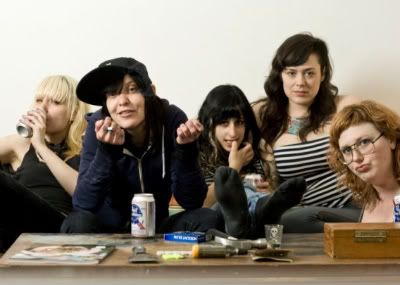 who the fuck are you?
SPITFIST
describe each of yourselves in one word.
Caitlin: jihad
Kim: MANAGER!
Stacey: hugebitch
Dee: dirtbag
Alicia: sloppy
describe your band in one word.
Badass.
what's your band all about?
Always wishing there was more beer.
how did it start?
We needed a place to drink on Friday nights and didn't have our own gear so we started renting a space by the hour. One of us drunkenly agreed to play a show so we had to get our shit together and start remembering songs week to week instead of blacking out and improving everything.
why the name Spitfist?
We couldn't think of anything better because it's the best band name of all time.
is it a joke?
The band or the name? One is hilarious, one is dead serious.
how would you describe your music?
Snot bubbles?
how do you all know each other?
We all worked at the same music store and were the only ones who got each others jokes.
where do you want to take the band?
To Denny's.
who does what? who writes what?
Caitlin: drums/vocals
Dee: guitar/vocals
Alicia: bass/vocals
Kim: manager/vocals
Stacey: lead vocals
Dee is the primary songwriter, Stacey writes the lyrics and everyone else contributes their unique flavours.
are you all on the same page style/music/goal wise?
Yes. We all listen to different stuff but have essentially the same tastes and ambitions.
who would you compare yourselves to?
Black Flag, Bikini Kill and Weird Al.
who are your biggest influences?
90's riot grrl, skate punk, Journey and Lynyrd Skynyrd.
what's your take on Toronto's music scene right now? or the music scene in general?
It's pretty dismal. No one really supports each other if they're not offered anything in return.
what do you think we need to see more of musically?
Less talk, more rock... and wizards.
what do you think is the worst current obsession in the industry who doesn't deserve their fame?
Katy Perry. Her songs are catchy and everything but she looks like a fucking robot when she tries to dance and, really, whipped cream out of your tits?! Subtlety is not her strong suit.
would you ever change your name to $pitfist?
We are... for our split with Ma$e.
what kind of deep issues do you like to write about?
Cool people, bird facts, child molestation, sex diseases, alcoholism.
what type of people would like your music?
Anyone who doesn't take themselves too seriously... and sweet babes.
when are you playing next?
Bovine at Friday the 23rd and Rancho on August 14th.
any plans for an album?
We just released a three song EP and we're putting out a full length after our appearance on DisBand.
For more on the band and to follow their DisBand experience...
www.purevolume.com/spitfist
www.myspace.com/spitfistspitfistspitfist
Werd!