Julian
, Alyssa and I sat down with Adam Fletcher at their Swingin' Utters show the other night for an interview... check it skanks!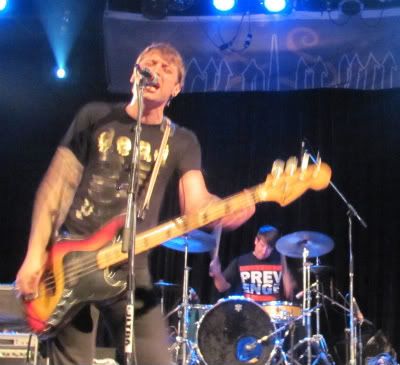 have you guys considered spelling your name with the copyrights symbol after this whole Ke$ha blow up?
adam fletcher:
you know what, i have! logo's are really hot and if we, you know, end up on warped tour… which we won't… then i'll make some logo shirts. *laughs* but no we haven't actually, brett our guitar player every time i always try to slide in the logo somewhere he fuckin' kibosh's it…. and i don't know why, it's built into the name!
you guys are being really secretive about your new record, all i could find was way back in june you mixed it…what the fuck?
fletcher:
alright i'll tell you, i'll tell you exactly what happened.. uhh we recorded it, we started recording it 5 months ago and we did it over the course of a month or so, we, matt housen*???* he runs a studio he's a really good friend of mine and he wanted to do our next record and he said i just want to spend as much time as we need to… so he's taking a really long time doing it and all of us were kind of like juggling with other stuff.. and i just recently moved and bought a house and stuff so i had to do all that and i dunno we just took our time, as soon as it comes out we're going to have to go on tour again so..
any idea on release date or label, are you guys shopping around?
fletcher:
we're going to shop it around, yeah, there are a couple labels who have contacted us… i'm not saying anything…but i don't know, it WILL come out but i don't know when or how!
cool. how did the Show 'Em The Hand compilation come about?
fletcher:
i have no idea! i just saw that that existed!
did you have any favourite comp's that came out back in the day?
fletcher:
comps? shit yeah! oh man i love comps. comps are my favourite way of listening to music. oh dude, crucial comps… uh the victory style 2 comp, since we're at a hardcore show, it came out in like '94 '95, maybe that was '93, but oh man that's when victory was on top! and survival of the fattest comp was a big deal when i was younger because that's when warped tour had just started and fat was actually like the first punk label to… they sold them for like $2, $3… so every kid had it!
well doesn't it say on the cd 'don't pay more than $3 for this'?
fletcher:
yeah it does, yeah! uhh also there were two comps, american skathic 1&2 that were the best comps of ska/funk bands, on a label called jump up records from chicago
so, what was brandon kelly's band called…. SLAPSTICK! were they on that one?
fletcher:
yeah they were on it!
right on. it's pretty awesome to experience the punk scene lately…
fletcher:
oh yeah? is it?
yeah man! it seems like it's becoming tightly knit, especially after the invasion of all the hipsters, it also seems like the 3-chord'ish pop punk is sort of taking over, you stoked on that?
fletcher:
um i don't know! is it! i don't know, i don't know, i don't know.. i mean i've got this question for years where people are like, yeah man pop punk is coming back or whatever and it's always like i don't really think so but, not from what i can tell! i guess what i'm thinking is ACTUAL pop punk bands, there's a lot of like, uh like basically the fest… basically they're a pop punk band because they're lumped into that but i don't know, some of it's just punk rock it's just fucking punk rock music, and punk rock bands used to have choruses and it used to be normal to have a singalong, just because you have a singalong in your song doesn't make you a pop punk band.. yeah i don't know if it's really the bands that started doing the pop punk thing a few years ago when there weren't as many and the ones are left are just consistently touring and doing it and making it bigger that way, or people are actually coming to the music, i don't know
fair enough. it's also pretty sweet that so many splits get released… would you say this is the punk rock response to the death of the cd?
fletcher:
possibly, yeah. especially since like me and adam alive from it's alive records were talking about this the other day where like the first 7" that he put out was our buttons smasher 7", the copyrights record, and all of our friends that had ran pop punk labels in the past told him 'do not press a 7", you cannot sell those things..' people said they pressed 500 and they still have like 160 and they were like it's a total waste of money don't do it. but adam is super into vinyl and he just Wanted to make a 7" .. didn't have any aspirations of being a record label he just wanted to make a 7" so he did and we sold like 500 in 2 weeks, and we were like uhhhh that's weird, and now there's a new 7" out every day, there's a crazy amount of people doing that shit so i don't even know what the question was but, i mean i guess so, i guess maybe it's just the bubble of vinyl, maybe it's still cool
so are you guys big fans of vinyl then, and maybe that's the punk rock answer to the death of the cd? i noticed that you're the only band at this show that has vinyl and you have fuckloads.
fletcher:
yeah we do! i mean i like to make every record on vinyl just because it's cool, it's a cool thing if you're in a band and you make a cool record.. cd's are kind of boring… but like i mean if people would buy fucking 8 tracks i'd sell them! if it's something people want… i mean i made a cassette tape! and i made 100 of them DIY i had a friend silkscreen the tapes and i printed out all the covers and printed and cut them up and put them together and i sold 100 of them just through a myspace page, it was super fun! it was the first time i'd ever made a tape! that was the cool thing… i've been playing music forever and i finally made a cassette tape and i was way more excited to make a cassette tape than a regular cd
now are you guys excited about playing the fest this year?
fletcher:
yeah, fest is great, it's always fun
you've played it before..
fletcher:
yeah this is our 4th year
want to give us a ride down?
fletcher:
I can if you meet us in carbondale! it's like 5 hours south of chicago…
what bands are you excited to see?
fletcher:
i'm super excited to see the suicide machines because i grew up on that band, and yeah i know dan isn't playing guitar but he also didn't like them to do the old stuff, so this year is all old stuff, it's going to be a hell of a party. um i haven't looked at the line up in a while i don't know what other bands, i mean it's the same bands we play with every year which is kind of the cool thing…. last year we didn't watch any bands… me and brett sat in the van and read books…
ahh intellectual!
fletcher:
yeah, the lines were so big… i don't know if you guys have ever been?
no we haven't
fletcher:
it's gotten too big for the venues, it's just fucking stupid, it was a 2 hour wait to get into one of the smaller venues where all of my friends were playing, it was like i'm not going to stand in line to see my friends play again so i'm going to sit down..
so it's all in actual venues not outside?
fletcher:
yeah they're bars, it's a whole 6 block radius there's a lot of bars and all the bars just have bands playing
so kind of like south by south west?
fletcher
: similar to sxsw but it's way smaller and only punk rock, it's pretty amazing but yeah that's the weekend that uh the football team plays out of town every year, so all punk rockers come in and the football players are all gone
and you guys are playing red oktoberfest too, and is that the same thing as riot fest?
fletcher:
yeah they combined it. riot fest is like a whole week of shows i think they do shows every day, and i think toby booked whatever this show is
do you guys like playing festivals? or do you like package tours like this one… or your own headlining tours? what's your favourite?
fletcher:
uh i like festivals, i like to play festivals like the fest or insubordination fest where we know everybody and we just get to hang out with our friends, um package tours can be kind of weird just because you end up doing weird stuff like this ***their swingin' utters tour was combined with the sick of it all tour*** our own tour is awesome because we get to play small shows with people who want to come see us but also sucks because i have to do everything! *laughs* it's all cool, it's cool to be able to do all of it, i remember we played at uh house of blues with like nofx or something and then the next day we played in a basement in Indianapolis to like 65 people and both shows were equally as fun but i think i like the basement one better
what's going on with dear landlord right now?
fletcher:
dear landlord is not doing anything.
you're just rockin it with your cocks out?
fletcher:
well i'll tell you, actually, you're the first to know but we recorded a couple songs, a while ago, with roger from less than jake down in gainsville, florida, and it's for a split 7" with toys that kill… it's supposed to be coming out… but i have no idea… sometime… we've been talking about it for ilke 4 years now … well toys that kill recorded, or had songs, and then the songs were lost… so then we kind of scrapped the whole thing, and then they found the songs so they now uh we went and recorded these songs, wrote and recorded them, now the guys in dear landlord want to re-record them so we're rerecording them in october, actually 2 days before the riotfest show… and now i think toys that kill are rerecording the songs that they lost so…
so you recorded the split, now you're rerecording the split because some songs got lost?
fletcher:
ah, yeah, some people were just not happy about how their takes were on the dear landlord stuff and it's probably the same for toys that kill.. something like that, that's what we're doing and that's it. off with their heads have a super busy schedule so we have to work around that.
it's probably hard having two bands that are pretty heavy touring wise and then having another one from the members of both of them…
fletcher:
pretty much dear landlord can only tour with off with their heads, and for the past few of years that's what we've done, that's pretty much it. i mean we just did 7 weeks in europe, or 5 weeks in europe and 2 in the state, and that was by ourselves, that never happens
you guys seem to play toronto a lot as the copyrights, do you like toronto?
fletcher
: yeah i do, and it's awesome that we've been lucky enough to come here. we've been actually covering a lot of ground in canada, more than i thought we would have…we played moncton and halifax
sweet, they have a good scene out there!
fletcher:
yeah they do, we played with this band the varsity weirdos
oh we know that band.
fletcher:
i actually just got super wasted, we just destroyed corey the singer last night, he texted me today saying 'i feel absolutely terrible, it was great to see you guys' .. yeah we polished off 2 bottles of jagger, it was sweet, yeah i don't know what was the question, do we come to toronto a lot, i don't know people want us to come so we come, i love it though i like canada a lot
have you heard of the other copyrights band who were from canada?
fletcher:
you mean pop punk band?
yeah they were pop punk, from 1990 or something, called just copyrights, not 'the' copyrights:
fletcher:
oh man we should play with them! that's funny, i had no idea, i should look them up
now the brokedowns were just signed to red scare, do you like them?
fletcher
: yeah they're wicked, great band, they're probably the best band in chicago right now, they fucking kill it like every time, i don't know we met those guys a few years ago and they just keep getting better and better and they're hilarious too.
now the final trademark question for you guys…
fletcher:
oh no, is this a kooky one?
yeah well there's a convenience store across the road, wanna go grab a bottle of listerine and go get drunk?
fletcher:
nooooooooo it will make you throw up!
have you actually done it before?
fletcher:
uuh man i'd like to say no…. *laughs* … no actually i haven't but people that i've been hanging out with thought it would be funny to have a mouthwash party… it only lasted like 30 minutes because everybody started getting grossed out.
do you get that question a lot?
fletcher:
no i don't really, no, i mean it's not a literal thing! *laughs*
THANKS A LOT!!!