I e-conversed with a friend of mine who e-conversed with Marc Rybicki, bassist of
Mythosis
(Montreal metal!) recently for an interview, CHECK IT OUT!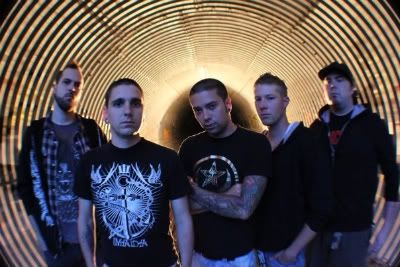 How do you like playing here in Toronto?
It's always fun to play in front of new faces and a new crowd, because you don't know them personally, you know that 100% of their reactions is genuine
What's the best description you've heard for your music? You've been called metalcore, groove metal, industrial death metal, hardcore etc etc etc…
Its kind of hard to actually put a finger on it.....as its a mix of alot of different styles...I think we like to go with "Extreme Mainstream" or Chris as likes "New Age Core" I say "Mythosis is Mythosis" people can label it what they will....we are opened to all suggestions hahaha!!!
Are you all fluent in both French and English?
Do you write/perform songs in both languages or just English?
Some speak better than others (e.g. smith is 100% french and he picked up english after spending almost a year touring in the states) but I would say were all pretty bilingual...myself (Marc) is the english one, as far as lyrics go I write most of them and for now are all in english even some latin sayings...although havent turned our backs to the French lyrics but for now arent part of the plan.
Any label plans in the future?
We have been approached and are currently talking with a few different labels but unfortunately cant name them at the moment.
How did the last album (Counter Fate Illusions) do compared to the 3 song demo that you first released which sold 1000's in just months?
Counter Fate Illusions did pretty well we have sold over 4000 copies independently....some bought off our merch store online have made it to the U.K., Japan, Sweden, Norway, The Chzeck Republic, New Zealand to mention a few....thanks to that internet thing people seem to use today!!
So you have a new EP coming out somewhat soon, can you tell me a bit about it?
I think we have found our sound we have really evolved since C.F.I. and are currently heading back into studio to record some of the new stuff in November to get out hopefully in January!!! Although a bit different and less dated than the previous album...fear not the hooks...ITS BRUTAL!!!!!
Have you played any of the songs live yet and if so how was the response to them?
Yeah we have played some of the new material....Hope Sick and Intelligent Design the 2 on the myspace along with 2 or 3 others which will be released come January. The reactions have been nothing short of amazing....as much as we like to play them the people seem to love moshing their brains out to em!!!! People have been picking up fast as Ive seen a couple sing along...so Im assuming that thats always a good thing!
And you're coming back through Toronto in 2011 after said EP is released?
Definitely...Toronto is amazing!!! We are planning some tours for January onward...and Toronto will definitely be a part of the routing!!
Does Cryptopsy's schedule ever get in the way?
Not so much anymore as it did in the past...Cryptopsy is sorta on hold at the moment so we are just taking advantage of this free time to really push the band to whole new levels...its sort of one of those fresh new starts....although cryptopsy has had its benefits...it helped us meet alot of people in the industry that can help us out in the future!!
Who directed the music video for "Holy Blood"?
It was not really directed we just found a spot invited 100 + people and said lets go nuts!!! It was quite something playing in a unheated warehouse in the middle of january at -30 degrees with 100 people, no heat, a crap load of dust for 4 hours!!! So we sorta just threw it all together ourselves!!!
Does it get mistaken for being a song by the band Holy Blood ever?
For a good while yes, not a song of...but the actual band...but I guess after a few months people sorta discovered Mythosis and now know that there is NO affiliation whatsoever!
What's your most memorable (for good or bad) show experience as a band so far?
I think we got alot of good memories...Good and Bad!!! Some to mention, some to keep off the record, but I really liked the time Josh bit a bats head off on stage....or wait was that some guy named ozzy!? I cant remember...haha!!
Why'd you decide to put out a USB wristband? Who's idea was it? How have they been doing so far?
The USB wristband/bracelets are all Smith!! He started his business "Wristrockin" (www.wristrockin.com) and presented the concept to the band....the idea was to create an item in which bands and fans can reuse live!!! Eventually we will be selling material in which you can only purchase at a live show (bonus tracks, live footage, live songs, pictures, interviews, videos...ect.) in which the people can present their USB bands at the merch stand and have us upload new material to it "for a small fee depending on the upload".....kind of an itunes in, but in a live format!!! That is the basic idea....so you can sell a USB band once but people can keep reusing it as they come back to future shows!!!
Its seems to be catching on, as not everyone knows about and what it is yet....but were confident it will spread like a brush fire, we already have other bands showing interest from the company....so Thank you Smith!!!!
THANKS A LOT TO SPENCER AND THE DUDES IN MYTHOSIS!!!