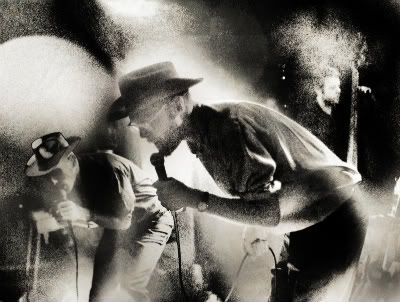 you guys have been highly praised in the media with bold statements like 'the greatest live band in America' from Spin Magazine, how has that flossed your egos? Do you still eat the green M&M's?
Slim
: hahaha, ah, haha, i don't know, it just makes us try harder because now there's a standard that we have to meet, and it's important to us to put on a good live show and that's the most important thing that we do actually is entertain people. whether or not that flosses our egos i suppose it does, naturally, but i think we're all rather down to earth, i hope so, we don't ever ask for anything outlandish on our rider they're bringing us some Budweiser, and we've got some makers mark and i think they'll give us a meal…. i hope!
how do you stay so down to earth?
s
: well we don't make any money!
that was actually going to be another one of my questions, you've been around for years now and have played with Johnny Cash etc, and you say you're still not making any money musically?
s
: well we make some money but we're not getting rich. we're making a living…
do you have other jobs on the side?
s
: some of us have things we do here and there whether it's teaching, like our drummer is a percussion teacher, one of our guys builds instruments, i help out at an art museum with installations…. we all have to be creative and we have to find things to do to help buy groceries, but we have to find things that also allow us to travel as often as we want to, and it's a nice life… we certainly have no complaints, we have to work for every penny. it's not pop music and it's not something that gets played on the radio for that matter, so everything that we do is word of mouth. we're on an extremely independent record label with jello biafra, and he had never really made any money either you know?
how do you like being on his label?
s
: oh it's great! at the time it was a dream come true, growing up when you're in the 80's and you listen to punk rock music and then a decade later you're on his label, it's pretty neat!
have you ever shopped around for other offers?
s
: well you know we did for a while, early you know years and years ago, but noone was really interested.. it wasn't music that anyone had ever heard before and that always makes it difficult. and then we tend to not stick with things sounding even like what we've played before, and so that continues to make it difficult… as we grow we find other things and other sounds, and one thing that we do pride ourselves on is that our music doesn't sound like anyone elses. there are bands that have come after us that sound like we used to sound and there's different stages of that, but i feel like we continue to grow.
so what would you say is the best description you've heard for your sound? I hear gothabilly is used quite a lot..
s
: yeah i've heard that one, i don't like that one! i don't know, the root and the foundation of our music is folk music and we tell stories about our people, where we come from, things we believe in or don't believe in, it's hard to say because then we play that really loud and it becomes a rock band and we certainly don't want to say that we're not a rock band. and we're not a folk rock band!
some of your songs are about murder and hookers and liquor, where do you get the inspiration for that kind of content?
s
: well basically we tell stories… and there's elements of that… but there's mostly elements of finding people who are in a real dark place that are seeking redemption, that's at least my take on it! like how can this person, this character that i'm singing as be justified and so i think there's a hidden message of hope or trying to find that.
you also have a lot of religious content, where do you stand on that element?
s
: well personally, and i'm not speaking for anyone else in the band, but i was raised very religious, my father is a baptist preacher, so it does find it's way in frequently because if you're raised a certain way you tend to think about those things whether you believe in them or not. sometimes i do believe in it and sometimes i don't. but it always finds its way in. i like the idea of believing in it, and if Christian's weren't such assholes then i might REALLY believe in it, you know what i mean? so that's the best way i can answer that.
were the other band members raised the same way?
s
: Munly was raised catholic, an extreme catholic as well, so we have the catholic-protestant war… but i wouldn't say that about the other guys. we don't really talk about it so i'm not really sure! i've known them forever but you know they know where i am, but i don't think they're real interested in religion. i would say we share a common bond of being interested in the spirit of music and even gospel music and how that can affect people. i can be affected by the dead kennedy's in the same way that i can be listening to gospel music, so i think that it all comes from the same place and it's all from your heart and it's all very religious. i think that's one of the things where people, who are religious, that's how they're able to think that it's true because of the music they're making and how that makes them feel and how that brings them together, and the community that it makes. so whether it's heresy or not i think that's also what we do. and i think that's what any good music is.
do you raise your kids religiously?
s
: no. very musically!
so, your song "jesus is in my body", is that a sexual reference then? *wink*
s
: you know I never thought of that! honestly! and i think that's one of the things, munly writes a good deal of our songs and especially on that album, he's an incredibly gifted writer and he writes short stories and he writes songs for his other band that he has and so when he writes for us he writes knowing this is for the auto club, this is for slim to sing and for this presentation. i don't know where i'm going with that! he's gifted at writing things on different levels, there are different ways that you can interpret them and it's up to me and everyone in the band actually to find what that is and so i've never thought of that, but now i will and i'll wonder!
i found it very interesting that you guys were on jello biafra's label while singing about a lot of this religious type stuff, i never expected him to have a band like that on his label!
s
: i'm very flattered by it! i'm flattered that jello really likes the band and even with it's religious content he still appreciates it and he still understands it. and it also means something to him. obviously he's real against religion and he talks about that all the time, and has albums full of it, which is fine but i don't think he's talking about it at the level that i was talking about you know, and the true nature of music and the human spirit and community. there was a time when he joined us on stage and he sang one of our songs which is called "jesus christ" which is very unironic, very heartfelt and as close to a gospel song as we can have and he sang it and i swear to god he was tearing up at the end and it was really important to him to do that in front of a full audience.
where was that?
s
: that was in denver. four or five years ago!
amazing! so moving on from religion, you guys also have a bunch of side projects going on (bands, books, etc) where do you find time to do it all?
s
: right, danny has a couple books out, munly has a couple books, and danny and munly and chad are in another band Munly & the Lupercalians the guy who's with us now is bob and he records bands in denver and has recorded all of our albums also and he's done 16 horsepower and woven hand. but yeah everyone has a lot going on but when i'm home, i'm home usually you know? when i work at the museum i work 15 hours a week and so we find ways to have time. i don't think we spend as much time with this band as other bands might, but i think we spend more time with this band than most mid-40-somethings do!
so you guys all live pretty far from each other then?
s
: well most everyone lives in denver, dwight lives in boston and i live in Pittsburgh. so there is a lot of space! when we do leave each other after a tour or recording we're actually thousands of miles from each other, and in a way i think that's kind of good and we're able to maintain sanity and maintain a real close relationship with each other too, we don't have time to get under each others skin!
how much do you practice before you tour then?
s
: we showed up a day early and we practiced all day. but we've also been doing this for so long so when we practice it's only to work on new songs.
why'd you decide to release a bunch of old songs for the last album instead of recording new ones?
s
: well there's 2 reasons for that. the first one was that it was released as a CDR only at some shows years and years ago, closer to when they were recorded in 2000, 2001, like before some of the songs showed up on later albums and so it was already a package that we had and jello had it and liked it and he liked those versions of the songs better than they appeared later.. and some songs didn't appear on anything later… and also he doesn't listen to CD's he only listens to albums on vinyl and the only way he could get it on vinyl is if he released it. so he had been asking us for a while if he could have that and he knew he wanted it on a 10" and that's just, he wants the whole catalogue and vinyl's the only way!
we were also trying to set up a trip to Europe last spring and our booking agent was encouraging us to have something that he could promote with and we have been recording and our new album should be out in march with new material but it just wasn't ready yet and we didn't feel comfortable rushing that so we just killed two birds with one stone. jello wants this anyway, and the guy in europe wants something so we just put it out!
i wish i had that power! i want everything on vinyl so just put it out on vinyl so i can have it!
s
: yeah it just really worked for us to do it! and it's always nice to have an extra thing at the merch table and the way we work is we don't make an album every year we make an album every three sometimes four years just by nature of how we do it and we take our time and we want everything to be perfect. it makes it so that people can get excited when they come to a show and they see it and they want it and we make more money and it works for everyone! i hope! i hope it doesn't seem manipulative to anyone like 'oh they'll just put out any shit' but we actually really really liked it and we like how it sounds and we like the songs sounding that way and it's interesting to us.
and didn't it completely sell out when you had it as a CDR just at shows?
s
: yeah it used to be a collector's album so we did devalue that to a certain extent so the people that had that 200 were probably a little upset!
so have you been playing any of the new songs live yet?
s
: yeah i think we have about five or six that we'll be playing tonight!
and i'm assuming it sounds much different than your other albums! how would you describe it?
s
: oh yeah, all our albums sound very different from each other! this one is… the last interview i did i didn't tell him and then munly got mad at me, but yeah this is going to be a pop album! that's the idea.
crazy! so these collisions and shit that happen while you guys are on stage, is this all part of your deliberate dance moves or are these drunken accidents?
s
: the collisions are normally just things getting a little out of control! there's a good deal of chaos in live rock music and we let that happen! we encourage it. we try not to stifle it. and we have been hurt! i have a hard time walking, i actually blew out my knee one year ago on Halloween and i will never be the same! i have to wear a knee brace and i limp around like an old man, and i am getting old!
did you finish the show?
s
: oh absolutely! we're professionals, there are no sick days!
is there any show that stands out to you as your best show ever?
s
: it's hard to remember all of them, but what we try to do is put on a better show than we did the night before. it doesn't always work, but our last show in chicago was fantastic! i mean it might have been the best that the band has ever sounded… i don't know if it was as much mayhem as we've had, we don't want to force things like that to happen. ultimately we want it to sound good and be a good concert, and if a collision happens then it happens but we certainly don't try to make collisions and that isn't what makes it a good show for us! but yeah, i'd say two nights ago in chicago that we've ever had in 13 years!
that's why you guys get quoted as being the best live band in america, because you keep having to top the last best show that you did!
s
: haha yeah! those are big shoes to fill when someone says that! and they said that in like '98 or something! we thought we were all going to get rich! haha, it didn't translate that way. we still had to work!
how do you feel about the music industry these days?
s
: ahh, i don't know, it's hard for me to know it. to me the music industry today is the same as it's always been. i think that all of the pop bands and all of those people are the ones who are suffering. the people who make independent music, we're in the same place or even better as a result of mp3's and now people wanting to buy vinyl and they get their download card… i think on our level of things, and if i think about all the music i've ever liked, i don't really see it being different… the bands i listened to as a kid, those guys never got rich and it was all underground music and it was all more important to them to make something from their heart and pop music is pop music. i know i just said we're making a pop album, but it's not to make money! it's our version of a pop album, there might be many levels to what that word means and for us it means making three and four minute songs instead of twelve minute epics! and for what it's worth, the lady gaga's etc have all been there. at least in the history of rock music. kids will always buy what they're told to buy… and there's always going to be a certain group of people from the population of the world that are ever going to listen to anything outside of pop music.
are you okay with people sharing your music for free?
s
: yeah. i am. and hopefully they'll come to a show and they'll buy something!
awesome! so your families are all super supportive of the band and the tour etc?
s
: oh yeah, always have been! i mean it's always been hard, i haven't made things easy on my family, you know, a few of us have families and it's not easy. but it's not easy for girlfriends either, but we're all good people and we don't make it hard on them in the wrong way!
do your kids listen to your music?
s
: yeah they did when they were little! they didn't when they were, you know, and they do now again! they've always thought it was really neat! i know they're proud of me. and i'm proud of them so!
Thanks so much Slim Cessna and Melanie Kaye!