HOW AND WHEN DID YOU GUYS MEET AND FORM THE BAND?
Steph : Hello Bella took formation in Aug of 2007 with Nic, Mitch, myself, and our old drummer Scott when we all met through a previous local project. After a year or so, Scott parted ways to focus on starting a family (He is still a great friend of ours) and we auditioned Rob to fill in. He has been a perfect fit since day one, and really brought a new sense of innovation to writing. Finally, last year (with the album in mind) we had an itch for an extra pair of hands in the studio. Matt, who is long time friends with our producer (Adam Miner), started helping out with the writing process and, much like Rob, there was an immediate connection. With Matt taking the reigns on guitar, it frees Nic up to add a new depth to our writing and live performance.
WHY'D YOU CHOOSE THE NAME 'HELLO BELLA'?
Nic : We threw a box of Kraft Dinner into a Mexican sombrero, shook it up, and dumped it on floor. To our surprise the uncooked noodles spelled "Hello Bella" and we knew it had to be.
S: What he said
WHAT WAS YOUR FAVOURITE PART ABOUT GROWING UP IN SOUTHERN ONTARIO?
S: I grew up in a town that literally had 2000 people in it. I don't know why, but I find peace looking out of my rear view mirror and seeing sun reflected wheat fields at harvest time. That is SW Ontario to me. A conglomeration of little towns surrounded by fields of crops! Ha, I've had friends of mine come down who are from larger cities and they get a kick out of where I am from. There is literally one main St. that runs through Wyoming and one set of traffic lights. I feel like South Western Ontario, really, is just one big community in my eyes, and I think it's a big reason why we've been able to experience so much success.
N: I wish I had! Seriously, who needs the sunshine and palm trees of Florida? Since moving to Windsor in 2004, I have developed a fond place in my heart for S/W ON. Sarnia has one of the most talented music populations I've ever seen. P-Town (Petrolia) is a great little town tucked in away from the 402 full of culture and life.
I READ ABOUT A SMALL TOWN TOUR YOU DID IN THE MIDDLE OF WINTER, WHY DID YOU CHOOSE THAT, ASIDE FROM THE FACT THAT IT'S A TOTALLY CANADIAN THING TO DO!?
S: I think with the timing of our That Girl EP Release it just happened to fall into place that it was winter we would need to tour to push it. I can recall the following: snowy county roads, dirty -slushy band gear and meeting a lot of fantastic people! Small Towns Rock!
N: I had this idea that small towns are really supportive of independent music, and nobody travels there because "the numbers are too small". But that tour proved that "Size Doesn't Matter". The shows were great and fans were really supportive. The only draw back was that it lasted from Late January to Mid April and nobody thought of the fact that there are no highways directly to Small Town, ON. So add county roads, late nights, and snow storms together and it was a miracle nothing tragic happened. Who let the Florida kid drive in the snow?!
YOU OPENED FOR THE BLACK EYED PEAS NOT TOO LONG AGO, WHAT WAS THAT LIKE?
S: One of the best stage experiences of my life, other than this past weekend's CD Release Party (Cause that was pretty incredible too!) There's something to be said for the adrenaline rush you get when 20,000 people are in front of you cheering you on. There is just nothing like it!
N: It was incredible. You couldn't see the end of the crowd.
HOW DID THEIR FANS RECEIVE YOU?
S: Amazing. It felt like a great fit with them and Down with Webster.
DID YOU GET TO MEET THEM BACKSTAGE?
S: They were a little late for the show. But that's ok, they are the Black Eyed Peas, they were fashionably tardy!
N: No. Unfortunately security was ridiculously tight.
WHAT ABOUT DOWN WITH WEBSTER?
N: What an awesome band! Nice guys too. Yeah, Bucky gave us really nice compliment at the end of the night. We had plans to hang out be we all got lost in the shuffle.
S: Man those guys put on one heck of an entertaining show!
HOW CLOSE TO NOT PLAYING THIS SHOW WERE YOU BECAUSE OF THE FIRE?
S: Closer than we ever wanted to be. The community came to the rescue and we are forever grateful! Despite the tragedy, I think having the need to prepare for Bayfest was therapeutic for all of us. We didn't have time to lament on the fire. We simply had to keep pushing forward.
WHAT EXACTLY HAPPENED?
N: The night after we were contacted to play Bayfest, we woke in the wee hours of the morning to an extension of the roof on fire. Luckily with the house being up to code and the quick response by the London Fire Department the damage was halted and everyone made it out alive! The back deck and our jam space took the hardest hit, ruining a lot of equipment. The cause was undetermined.
HOW WOULD YOU DESCRIBE THIS NEW ALBUM ECHOES OF THE ATMOSPHERE?
S: It's an album for every ear! There is such a variety on there from rock tunes to ballads and even some dance tunes.
N: It's a masterpiece in our eyes. There is a beautiful amalgamation of spontaneous ambience, intellectual harmony, and good old-fashioned pop-rock fun. I think the theme circulates around the atmospheric compositions; not so much because of their sounds, but because they we are all creations of honest artistic moments and happenstance.
WHAT IS WITH THE WHOLE SCENE BEHIND THE NEW ALBUM COVER? FEATHERS… ETC? AM I MISSING SOMETHING?
N: HAHAHA! We have Artistic Director, Maha, to thank for this. I love it! I guess the stripped down idea is that we are the last people on the planet and Stephanie is the Goddess of War, our Queen? We wanted to be something more than just a band on a street corner. We wanted the cover to really be iconic and stand out. It's definitely different than anything else!
S: I have to admit, when I first saw the feathers I was a little leery but when the idea and Maha's vision all came together, it was cool! I think it's different like Nic said, and it tells a story in a way. The nebula in the background of the scene gives off that atmospheric look which was the initial idea and ties into the theme of the album.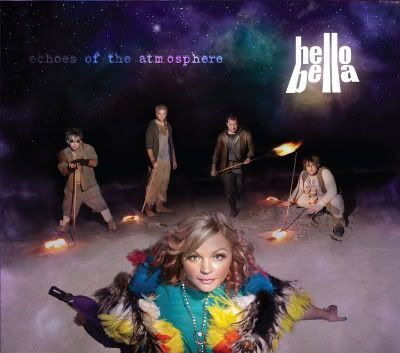 WOULD YOU EVER AGREE TO WEARING THAT GET UP ON STAGE?
S: For practical purposes, probably not. That thing weighed a little too much! Ha-ha. For the look of it? Absolutely. We try to make our shows a production, entertaining, who wouldn't want to see a feathered queen of war take over the stage!?
N: I'm not a good person to answer this because I'm missing the embarrassment gene.
WHO WRITES WHAT IN THE GROUP?
N: Most often, everyone writes their own parts. It's really a group effort. I'd say 50% of the album started off with Mitch noodling something on the bass. Then Rob will kick in a groove and then we jam out whatever comes to mind. Stephanie and I will take and try to put the pieces together lyrically and come up with a rough structure. Our producer, Adam Miner, plays a big roll in everything as well.
S: Usually, for the more ballad-esque pieces, it will be me and a piano and then I will bring forward the songs to the guys such as with Earthquake and Lost. I am such a sucker for a ballad and my forte is more so in writing that type of songs.
WHAT PAST EXPERIENCE DO YOU GUYS HAVE MUSIC-WISE? PARTICULARLY STEPHANIE, WHAT ELSE HAVE YOU DONE WITH THAT VOICE?
S: My childhood experiences were mainly in school productions, church choirs, plays, and talent contests. From there weddings became a popular thing (I think I've sang for every relative's wedding and I'm Dutch so that's a lot!) I released my first solo EP when I was 15 years old and then in my later years I started to indulge a little in theatre. One of my favorites was when I played 1 of the 3 floozies in the theatric production of Beauty and the Beast. I was pretty proud!
N: I'm a band geek! I did Drumline, Marching band, Symphonic band, etc. for a long time. Then mostly Punk bands and electronic solo projects like Santa's Upholstery.
ANY BIG PLANS COMING UP WE SHOULD KNOW ABOUT?
S: We've got a lot of plans that are in the works. Touring, promoting the album, and continuing to get our name out there. We've had phenomenal support from our hometowns and SW Ontario thus far; i.e., radio play, press, and fans. And new opportunities are popping up everyday, so STAY TUNED!
N: We plan to be the first band to play a show on the moon.
ARE YOU STILL TAKING CARE OF YOUR OWN TOUR/SHOW BOOKING SINCE THAT HUGE BEP GIG?
S: Every once in a while. Most goes through our booking manager now.
THANKS SO MUCH TO THE BAND AND TO SARAH W.!!