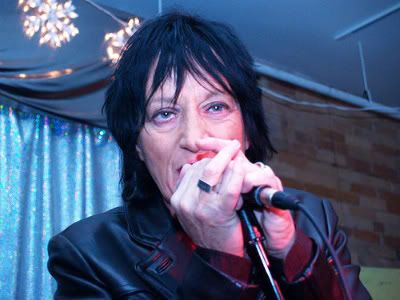 WHAT WAS THE YORKVILLE SCENE LIKE WHEN YOU WERE STARTING OUT? I WORK IN THE AREA NOW AND IT SEEMS TO HAVE NOTHING TO DO WITH MUSIC ANYMORE!
C:
I was in my early teens and there were all these amazing bands that would hang out. The Yorkville scene was bands like the Ugly Duckling, Luke & the Apostles who played in Kensington Market at all these clubs. mynah birds.. None of these exist, there's no sense of history whatsoever. The only thing that's left there is this room that I used to live in on top of this building that is still there, it's old and funky, everything else is like crap. It's so sad!
YEAH IT'S REALLY RITZY NOW!
C:
Yeah, there's really bad hong kong real estate.... isn't it!? I mean it used to be old and funky and victorian.
DO YOU STILL LIVE IN NEW YORK CITY NOW?
C:
Yeah!
DO YOU MISS TORONTO AT ALL? ANY PLANS TO MOVE BACK?
C:
No! I mean I like coming back here, i miss some of my friends, but no! I did move back for a while in the 90's but no it's just great visiting. I'm back every couple of months pretty much.
DO YOU THINK YOU'D STILL BE CONSIDERED AS RAUNCHY AS YOU WERE BACK IN THE DAY IF YOU WERE STARTING OUT NOW?
C:
Uhh, no? I mean I don't know, If I were 20 and starting out now I don't know, maybe I'd have something going on... how far would you have to go to be really raunchy now? stuff is so sexual that it's asexual!
LADY GAGA..
C:
She's not sexual at all! She's really not sexual!!!
WHAT DO YOU THINK ABOUT HER?
C:
i think she's really clever at plagiarizing from all these great people, and that last song of hers "born this way" sounds SO much like "express yourself" by madonna. I mean some of her music i don't mind but she's just such a clever business woman and clever the way she markets herself.
SO WHAT DID IT MEAN TO YOU PERSONALLY TO WIN THOSE JUNO'S BACK IN THE DAY?
C:
I was really shocked that I won, but it was really just a validation as a performer.
WHAT ARE YOU UP TO NOW?
C:
working on a new record!
WHEN WILL THAT BE OUT?
C:
hopefully in the summer, I'm trying to release the single any minute!
HAS THE MUSIC CHANGED AT ALL FROM THE LAST ALBUM?
C:
Uhh there's just more parts! More layers!!
WHAT ARE YOU MOST PROUD OF THAT YOU'VE ACCOMPLISHED IN YOUR CAREER?
C:
Just that I went out there and did it even though people said 'you can't do that' 'you can't play original material' 'you're a woman' you know, etc etc.
AND LAST BUT NOT LEAST, IN LIGHT OF ALL THE RECENT SUICIDES BECAUSE OF GAY BULLYING AND THE IT GETS BETTER PROJECT, DO YOU HAVE ANY ADVICE FOR KIDS GOING THROUGH THAT SHIT RIGHT NOW?
C:
It does get better. I mean I've had suicidal thoughts too so I can totally relate, but yeah you just have to look in the mirror and believe in yourself, believe that you're beautiful and worthy and you're loved because SOMEBODY loves you, but you have to love yourself.
DID YOU EVER FEEL LIKE QUITTING BECAUSE IT ALL GOT TOO HARD FOR YOU?
C:
Um, no. I think, as my band said: 'if we stop doing it, we die'.
THANKS SO MUCH TO CAROLE AND MELANIE!