If you haven't heard of Kyrie Kristmanson yet I urge you to check her out. Since I started writing this interview for her I have not been able to quit listening to her songs, she is AMAZING! Check out the interview below first though!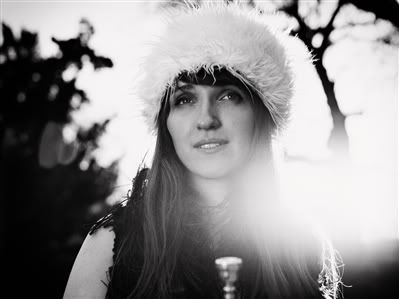 how old are you?
KK:
21
how old were you when you started to write/make music?
KK:
I started to play the guitar at nine and the trumpet at about 12. For a while I thought I wanted to be a trumpet player. I loved the way the great players could make it really sing and cry, like a voice. As I got a bit older, though, I realized that the guitar allowed me to sing words at the same time and this came as a revelation. At about 14 I started to write poetry and it seemed so natural to me that the words should be sung. In fact, I heard melodies in the words as soon as I thought of them. I felt very much at home in the world of songwriting, which is one that I still love because it has not been codified … There are no rules, really, and I continue to feel a lot of freedom to experiment with my words and melodies.
how were your talents 'discovered'?
KK:
As soon as I began to write songs, I wanted them to be heard. I had no idea if what I was doing was good or not, but songwriting seemed like something that was most alive when it occurred between a performer and an audience. I also wanted to see how people would react to my songs, since I felt like I was trying original things. I forget exactly how it happened, but I began to play around town at open mics and at festivals. I was delighted and surprised to see that people were intrigued by my approach to songwriting … And things just went from there.
who have been your inspirations/influences throughout your career?
KK:
When I was growing up I was very inspired by strong feminine voices. As a young girl I listened to PJ Harvey, Patti Smith, Joni Mitchell, Björk, Sinead O'Connor, Buffy Sainte Marie… Although these women sing in very disparate styles, what they have in common is a musical daring that I've always admired. While I don't necessarily emulate their musical styles in my songwriting, they remind me to have the courage to stay true to the particular way I hear things … More recently I've noticed this same quality in the songs and careers of the Medieval women troubadours. In the 12th and 13th century South of France, they wrote some of the first profane love songs in very honest and audacious tones … They were actually writing some of the first pop songs in a world perhaps not ready to hear them.
have you ended up playing with any of them?
KK:
I've had the pleasure of meeting and playing at some of the same festivals as Buffy Sainte Marie…Also Feist, who is another singer I admire ... Emily Loizeau, also, Mélissa Laveaux … Sophie Hunger … And many more.
in your videos you seem pretty modest, would you use that word to describe yourself still? I mean, you've done a lot at such a young age.. do you think it's affected that part of you?
KK:
I really feel like I have just begun as a singer/songwriter. I have so many ideas and I'm very hungry to continue to do everything I've been doing thus far…but more of it and more intensely. I would say the speed of my life over the past few years has been getting faster and faster and as a result I'm constantly put in the position of experiencing newness. I love to live this way, because I'm always learning and searching for new sources of inspiration. As I say, I feel very at home in the musical world … the nomadic life and the intensity of it suit me. If I'm modest I suppose it's because I'm grateful to be doing what makes me feel very alive … I don't even notice, really, if I'm getting more "famous" … I never think about it, I suppose. Of course I want people to hear my songs and hopefully like them and buy my albums … but the process of writing them and arranging them with other musicians and performing them is so rich and fun and rewarding, that I suppose I focus mostly on that…
what has been your favourite experience of your career so far?
KK:
As I mentioned, it's a very nomadic life and I love to travel. Origin of Stars, the album I released not long ago in Europe and in Asia, has lead my to play extensively throughout France, Germany, the UK … This spring I will be going to Spain and to Japan … and back to Germany. I would say that my writing is site-specific, so I think spending time in these countries somehow finds its way into my songwriting … I always try to see the city where we are playing. I have been able to see many medieval castles in France this way … and roman ruins … and old battlegrounds … I find the energy and legends of these places very haunting and inspiring.
in your words how would you describe your sound as it is now, aside from singer/songwriter, to somebody who has never heard it before?
KK:
I'm tempted to use a term that I heard Björk use once, though she didn't really explain it. She called what she was doing a kind of modern folk. I liked the way it sounded and somehow I felt I could apply it to my songs as well. I love the word folk. For me it sounds like such an old word that also means, quite simply, "the people". When I write, I'm to write in a way that is both old and new. I am very inspired by the past, but in the way that it continues to live and remain relevant. I was very marked by an experience I had when I was about twelve: I thought I saw young kids playing in an old, abandoned hospital and I wanted to go join them. When I asked how to get to the wing where I had seen them through the window, the groundskeeper told me that I couldn't have seen anyone there, since it had been locked for the past 50 years! I was very shocked by this information. It made me think that the past wasn't really past, that it still moved through and interacted with the present. Later I realized that this is how I wanted to write songs: Songs that are both past and present, old and young. The term modern folk sums this up for me.
where are you living these days?
KK:
I'm based in Paris right now, but plan to spend the summer in Berlin.
so what do you have in store for 2011?
KK:
This past summer I collaborated with Canadian composer Pat Carrabré and New York's Juliard School Quartet in residence, the Afiara String Quartet. Together we developed three song cycles and premiered them at the Ottawa International Chamber Festival. This summer I would like to write a fourth cycle for voice and string quartet and record the project in Berlin. I am very drawn to that city and its youthful open-mindedness; I want that energy to infuse this classical/pop crossover project … I love to hear my songs in this context. Though I will continue to perform mainly with my guitar, I want to explore other musical formations. This for me is a very exciting new direction.
THANKS SO MUCH TO KYRIE AND MELANIE!!!
www.myspace.com/kyriekristmanson