Interview done by: Julian Warme and Corry Moore!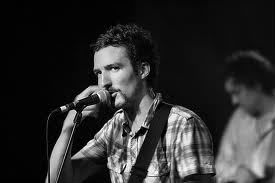 Okay, well, hi! Happy Easter... happy Jesus zombie day, how'd you spend your Jesus zombie day?
FT:
mostly on a plane flying to Toronto from London, that was alright, that was okay! And then went out and had a few beers last night..
Where did you go?
FT:
we went to Let's Wing It on yonge!
A wing bar?
FT:
yeah i wanted wings man, i wanted wings and beer! and a shot of jameson, and i found all those three things in the one place and my life was complete!
Haha, awesome! Now it seems like every time I look you up you're on the road, do you ever miss your family on holidays like this and is there any part of the year that you'll absolutely refuse to tour?
FT:
ah, well to answer the second part first no! haha, i mean there are events, like my mom got married the day before yesterday so that was kind of like a red day in the diary you know, but i mean it's funny easter's a funny one because it's not on the same day every year and i have been on tour every easter for like the last 8 years because i always book my tour schedule way before i realize when easter is so every year my mom's like 'what are you doing for easter' and i'm like 'easter... oh!' and then you realize... so i don't know i love being on tour, i mean it's my profession but it's also my passion as well and i like moving around and being busy and stuff. and yeah i do miss my family on occasion but it would be redundant for me to complain about it because i choose to do what i do so i'm not going to complain!
Cool! I just read on your website that you just broke 4 digits with your shows, with your 1000th show, tomorrow night (El Mocambo, Toronto) will be your 1001.. congrats! Do you feel old?
FT:
hahaha, yeah, maybe a little, it was one of those things where i almost kind of wasn't bothered about it at first and then we kind of organized a party for it and it was cool but then as it was coming it was kind of like a 30th birthday or something like that and i was just like oh fuck i'm going to be a 1000 years old and it was actually scary!!! umm but it was cool, it was a really really fun night and i'm proud of it! you know, i'm proud of my tour schedule! one of my favourite bands, they just did their thousandth show after about 20 years and i'm like 'slack mother fuckers' hahaha you know what i mean, like kicked your ass! So yeah, it feels good!
Are you planning on getting a road warrior tattoo commemorating the occasion?
FT:
hahaha, you know it's funny, Jimmy my tour manager actually said to me he's like 'so a thousand tours you gotta get a tattoo right' and you know i like tattoos and whatever and i was like 'maybe i should do it' and he said 'yeah you fucking should do it, what the fuck dude' so i guess i'll think of something and get it done in the next couple of weeks!
How do you like performing solo compared to performing with a band?
FT:
it's cool! i mean like it's a different thing, different kind of feel to the show and it's kind of nice in a way for me to be able to do both because it keeps it fresh and it's, you know when i play solo there's a lot more yakking between songs but it also means i can just switch up the set list and play old things that i've just suddenly remembered or play something that someone calls out in the crowd! i don't know, it's weird, right now i would prefer to play with a band if i had to choose kind of thing but in the grand scheme of things i think the paradigm of one person with one instrument is really important to me and if somebody were to tell me that i had to choose one of them for the rest of my life i think i would choose playing solo. i mean i wouldn't do it with any joy in my heart, but i would have to choose that.
Now do you find it easier traveling as a solo artist or with the band?
FT:
oh yeah it's much easier, i'd much rather travel solo i love it, it's great. i love flying on my own, i get really stressed when there's other people with me, yeah it's much easier.
Do you ever get hecklers at your shows besides the drunk dicks at the back?
FT:
yeah on occasion, but i mean, well, as we've just been discussing i've done a few shows in my time so there's always means of dealing with that.
Do you respond by punching them in the face as well?
FT:
hahaha, i don't respond with punching them in the face but there's other ways of dealing with the situation that it's doable, there are tricks of the trade. my favourite heckler, do you know a band future of the left or mckusky uh before that one, same singer in both bands he's a friend of mine and he is the BEST heckler handler i've ever seen, i've seen him make people cry i'm not even exaggerating... grown tough guys because he's just literally there like 'i'm going to go back in time and sterilize the parents' you know and he'll give you 5 minutes of full on utter fucking concentrated hatred at you, it's great.. it's really fun to watch actually... it's like 'you asshole you're wearing a tool t-shirt i'm going to fucking skin your balls you stupid shit' and it's just kind of like whoa whoa chill out!!
Did you coin the term 'campfire punk rock' for your first ep yourself?
FT:
i'll tell you exactly what happened with that! when i first started out doing solo shows i spent 18 months going around the uk on the train with just a guitar case and a rock sack and it was terribly woody guthrie, well it was, but it turns out that gets to be kind of tedious, but anyway i was doing a show in dundee which is in a small town in scotland and i was just opening a show at a bar with some other dude, this is like 2006 and i'm having a cigarette afterwards and there was a really intensely drunk punk dude just staggered and he pretty much just walked into me and say 'arrr you're a fucking campfire punk rock bastard' and then wandered off into the night! i did actually try to find out who he was and like track him down because i figured if i was going to use the phrase he deserved the credit for it but i've never... i mean it's pretty hard i call the people i know in dundee and it's like 'he was drunk and punk' and they're like 'yeah okay... that's my entire social circle' ... but yeah that was where it came from and i'm pleased he said it, it's a cool expression and it sums up what i was trying to do!
How long have you had your new record finished for and any thoughts of changing your name now that you're releasing a second full length with a band?
FT:
ah, well hm! well first question first, we finished at the end of february i think it was. the recording process was actually really quick we did the record in ten days, it was funny this summer we actually demo'd the whole record twice which we've never actually done as a band before and that was a really instructive and useful process and definitely something i'd like to do again. so that went fine, however mixing took a fucking life time this time around. it's funny usually when you mix a record you do one song and when you do the next one it's a little bit easier because you kind of have a template to work from and everything... but it didn't work like that. we actually kind of recorded a lot of the songs kind of differently, some of them we did live and what not so the mixing was a pretty stressful process. i think christian was about ready to kick me in my face by the end of it! but uh in terms of changing the name no, i mean what we have done is we've got a name for the band now the sleeping souls, but it's actually something i've been wanting to do for a long time but the only reason we haven't done it before now is just because it took us ages to come up with a name that everybody agreed with because all the guys in my band are cantankerous grumpy old shits... i love them! i love them all deeply! to me it's important that people know it is the same band and it's not a random bunch of dudes that i found in an alleyway outside the studio because they are a big part of it, i mean i write the songs myself but they help out with the arrangements and they are great fucking players and it wouldn't sound nearly as good if i didn't have them, we play as a unit. it's important! i came up with a lot of names that they turned down, my favourite was the overdrive explosion attack orchestra, i felt that was pretty good! no that didn't win. actually my favourite one that they turned down was the 1970's... frank turner and the 1970's... because they were all born in the 70's and i was born in the 80's! they were like 'fuck you man!' but this one is obviously a line from a song on the record and they are all happy with it so it's like okay sweet we have a band name.
Are you going to release anything just as Frank Turner then or is it going to be strictly with the band?
FT:
i don't know, that's a good question i mean obviously this record it's not like the band plays on every single song or whatever and i sort of am just happy with that sort of 50/50 split, i don't know maybe? i don't know! i have been thinking actually one kind of idea i've got bubbling around in my brain right now is possibly doing an EP of just folk as a guitar doing a bunch of politically driven songs because i've just got a bunch of that stuff brewing and i feel it would be good to kind of put it all in one place and have that and do it and have it as a thing and then we can just move on. i don't want to be a protest singer in life but if i were going to make some political statements it seems like it would be fun to do in one place. plus i have various things i really really really fucking need to get off my chest about politics because i'm just fucking bored of being accused of being a socialist. i am not a mother fucking socialist god dammit! you know, i just need to let the world know!
Haha! How'd you get started blogging for NME during your last tour?
FT:
oh they asked, basically! i mean that's a really boring answer to the question but they were like 'do you want to do it' and i was like why not. actually it was more like my management and press people were like 'yes you must do this' so yeah it worked out. it was cool, i blog a lot on my own so it wasn't a big step.
Did you find it difficult to keep everything updated with your website on top of that?
FT:
not really, i mean like i seem to remember that in that period that i was doing the NME blog i was just kind of writing it like i'd write normal blogs and then just kind of posting a link to it from my blog haha, but i like blogging it's not a massive effort for me to keep that going.
Do you think it's an important outlet for you?
FT:
i think it's an interesting outlet, i hesitate to use the word important because there are a lot of people who don't do it and do just fine but also we're talking about music and it's about music and some people don't blog and it doesn't impact them. i happen to be a gregarious mouthy mother fucker so in that case it comes naturally to me but uh it's more something i think is fun, there are some people who want to say it's becoming vital to the new digital music economy and it's like stop talking like a management seminar, we're talking about sound here!
Well you're kind of in the home stretch as far as America goes, 7 more dates or something like that, did you make sure that your buddy Prince William got you a spot on the Obama couch so you can watch them get married when you're in Washington?
FT:
hahahaha, oh good lord, i would not be invited to the royal wedding and if i was i doubt they'd let me in because i don't own any trousers that aren't jeans!
Would you pull a Mr. Bean do you think?
FT:
hahaha, i don't know it's a weird part of our natural neurosis that we care about things like that, i mean i don't care. a bunch of rich people that i know just got married last week too and nobody talked about it... who gives a shit. but at the same time good luck to them and i hope they don't get their lives raped in the press like their parents did, basically, they seem like nice enough kids. there are a lot of people who get very very angry about the monarchy and if i was designing the world system i wouldn't include one but i can't say i find it very easy to rustle up energy to give too much of a shit you know what i mean? they just do what they do i don't really care.
THANKS SO MUCH TO FRANK TURNER AND KEITH FROM EPITAPH!