Yeee that's right bitches, I had the pleasure of sitting down with Tony Sly before his Bovine show yesterday and asking him a few questions. Cheeck it!
DID YOU HAVE ASPIRATIONS OF DOING A SOLO THING WHEN YOU FIRST STARTED WITH NO USE?
TONY SLY:
no, no you know it was more of just a united effort than trying to book shows and get a record deal.
WHEN DID YOU FIRST REALIZE YOU WANTED TO GO SOLO?
TS:
I did a solo record with Joey Cape in 2004 which was just redone No Use For A Name songs, and that seemed kind of cheap to me so I wanted to do something with more substance like writing your own songs... not that I didn't write those songs but writing songs that are supposed to be on an acoustic record like the one I put out last year. When we were touring on No Use's last record, it was really early in the touring cycle and our drummer started wanting 6 months off a year in the winter so it was one of those things where I'm like 'well what am I going to do until then'... we either get a new drummer and keep going or I can do this solo thing that I've been wanting to do for a few years. So I wrote a bunch of songs and then I just took it from there. I did one last year and now I'm working on a new one.
THERE'S A RUMOURED NEW NO USE FOR A NAME RELEASE DUE OUT LATE THIS YEAR/EARLY NEXT, IS YOUR NEW SOLO ALBUM GOING TO COME OUT AROUND THE SAME TIME?
TS:
No, I still have to write that... the No Use album... all the songs are done for my solo record though and everything is recorded it just needs to be mixed and mastered. But No Use, I'm just writing right now.. our bass player is in the hospital and we don't know when he's going to get out so we're just kind of hoping he gets out soon. We're supposed to tour in Australia in July and do more touring but I'm just doing the solo thing for now.
HOW MANY DATES DO YOU HAVE ON THIS TOUR?
TS:
There's 10 total, this is the 7th or 8th show. I still have Hamilton and London to go in Canada.
DID YOU FEEL LIKE IT WAS HARD FOR YOU TO BREAK OUT OF THE NO USE STYLE?
TS:
Well it's always been the same type of lyrics, very personal lyrics, and some would say that these new lyrics are even more personal on the record I put out last year, and on the one coming out they're even more personal so it's kind of different from No Use in that respect but I mean at the same time I'm always just writing what I'm thinking, not trying to choose a topic for a song, I'm just always trying to stay true to what's going on up in there and put in on paper somehow and write a song out of it.
HOW WOULD YOU DESCRIBE THE DIFFERENCE BETWEEN BEING ON STAGE BY YOURSELF SOLO AND BEING ON STAGE WITH YOUR BAND?
TS:
Well the first thing is you feel more comfortable with a band, well I did feel more comfortable with a band at first. Now I feel more comfortable by myself and it's because you realize that you're in control of the song, in control of the tempo of the song and it doesn't really matter if you screw up because you can just make up for it easily and people that come to the acoustic shows it seems like they like to drink... a lot! I don't know why but it seems like it just draws a drinking crowd, that's one of the things that I've noticed... I always say that the perfect venue for this type of music is a bar you know? it's not really a venue. I've played in Europe where we played an acoustic show in front of 650 people and it just felt stupid, it was ridiculous, too many people for such an intimate thing. So I think the difference between No Use and that is it's a lot smaller, you kind of want it to be, you want the rooms to be small and they usually sound better... you want it to be a more intimate experience because I think that's what people are coming to see. If I saw somebody... I don't know, like one time I saw Bob Mould at the Fillmore in San Francisco and there was a barricade and it was just him playing acoustic but it was such a weird experience. I ended up leaving halfway through because I was so bored. But again if I see one of my friends play at a bar or something and I'm just up there and I'm up close, or I have a stool and I can sit down and just watch that person play it's so much better and they're so much more into it that it reflects on the crowd. More of a connection.
HOW DID THE SPLIT WITH JOEY CAPE COME ALONG ORIGINALLY?
TS:
Well that one in 2004 was kind of like... it wasn't our idea. It was Fat Mikes idea. He called us up and said he was going to do a series of acoustic records with 2 song writers from Fat per record. Originally I was supposed to do mine with Darius from the Swingin' Utters and then it became me and Joey. I never even planned on touring with it, I just did it and that was it, I was done. But he started a little bit earlier and put out a record so when I met up with him he was like 'do you want to go to Europe with me' and kind of co-headline... we came to Toronto with it last year actually at El Mocambo, but it's a really cool thing because we get to play for almost 2 hours and just kind of trade off doing songs and he'll play like 5 of my songs and I'll play 5 of his... it's really cool. But we never had planned on touring.
IS THERE A SORT OF CAMARADERIE BETWEEN ALL THOSE FAT BANDS LIKE NO USE, GOOD RIDDANCE, LAGWAGON, NOFX ETC?
TS:
You know what's weird, I think there's more of a camaraderie now than there was before because I think before it was more competition and rivalry, and I don't know if it's you get older and you lose your competitive edge or something but me and Russ talk about it all the time about how bands would be, what people in certain bands would do to get their band ahead and things like that. It's just so ridiculous, we just started talking about how now doing this thing it's so much more mellow than being in a band so there is a lot of camaraderie with it... and the people that are doing it... I mean this is Russ' first time doing it so I'm trying to help him, he calls it showing him the ropes but I don't really think of it like that. It is kind of like that though because he's never done it before so I'm like 'dude it's so easy just get up there and play'.
IS HE NERVOUS FOR IT?
TS:
No, surprisingly he's pretty steady up there!
LOOKING BACK NOW, WHAT WAS IT LIKE TO JOIN A REAL SUCCESSFUL BAND WHEN YOU WERE WHAT 17/18?
TS:
Yeah, 17! Well they weren't successful until about 5 years after that haha so I had to wait for that! But yeah we played a lot of parties and stuff at first and I don't know I think when the band started really getting popular it was maybe 5 years after that so like 1992/1993, and yeah I was still only about 22 so it was weird, especially because I had a job at a restaurant... I was waiting tables.. and I remember I had to sort of make a choice...I was missing about 30 units from graduating from Junior College with a psychology degree and so it was like 'okay do I finish this or do I sign up for this band full time'... and I had to make a decision because it was like everything was mapped out... it was like okay we're going to tour for 8 months out of the year and we have to leave everything behind and so I just chose that!
DID YOU HAVE A FEELING IT WAS GOING TO BE SOMETHING AS BIG AS IT WAS?
TS:
Not at first! And I think when it got big it was kind of like... we were on tour so we were in the thick of it, we didn't really notice. I remember certain milestones you have when you notice that sort of thing, like we couldn't draw like 10 people in our hometown of San Jose and then we went on a tour and I think were coming back from Australia and we played this 'big club to play' in San Jose and I remember pulling up and there was a line around the block... I was like whoa this is for us, it was pretty crazy. So there are milestones like that you remember.
DO YOU EVER FEEL LIKE YOU MISSED OUT ON YOUR YOUNG ADULTHOOD LIFE BECAUSE OF EXTENSIVE TOURING?
TS:
I think I got more than most people! haha!
THAT'S FOR SURE! BUT THERE WAS NOTHING THAT YOU WISH YOU HAD STAYED TO DO?
TS:
Not until recently! My kids birthdays, like in the past 7 years I've missed a lot of my kids birthdays, like my babies 1 year old and the 5 year old but we just reschedule and they don't know! They're dumb, kids are dumb... *jokes*!
HAS NO USE FOR A NAME BEEN PUT ON HOLD FOR YOUR SOLO CAREER OR DOES THE BAND STILL COME FIRST?
TS:
It has been inevitably, I don't mean for it to get put on hold but it does, there's only so much time and being the sole song writer for No Use it's really hard to juggle both at once but it's great because it really keeps me busy and so far so good. And I never really knew this until now but if you keep the creative gears turning you actually kick out more songs than you could before. I used to have this rule that I would write at home and then I'd go on tour and not write at all. But now I write on tour and it's kind of nice, as long as I keep myself constantly writing.
WHAT ATMOSPHERE DO YOU LIKE WRITING IN THE MOST, WHERE DO YOU GET THE MOST DONE?
TS:
At home, but on tour I'm starting to make time for it and lyrics are easier to write now for some reason, I don't know why... I think I just care more about certain things.
THAT'S INTERESTING, I THOUGHT YOU WOULD RUN OUT OF THINGS TO SING AND WRITE ABOUT AFTER DOING IT FOR SO LONG NOT THE OPPOSITE!
TS:
Yeah I know! That's what a lot of people say, but I think it's if you're trying to be a topic writer and write about everything, keep up on the headlines, you can't really win. But if you just kind of write about your life I mean it's never ending.
WHAT IS THIS JAPANESE SPLIT ALBUM YOU HAVE?
TS
: uhhhhhh OH I'm doing 3 songs with this guy from this band called Dustbox who is a big band in Japan, and he's the singer/songwriter of the band, and the other guy is Jason from Frenzal Rhomb, a band that used to be on Fat Wreck from Australia, and it's 3 songs each and it's going to be an LP in Japan, coming out next year... or this year... this year yeah! But you know when you say it's coming out in Japan these days they put things on Itunes so it's like it's coming out everywhere I guess. I also just JUST last night approved a mix for a Japanese relief effort compilation, I had 6 extra songs leftover from my recording session that I'm doing right now... like when I go back on Monday, Tuesday morning I have to go right back to San Francisco to start recording again and finish mixing and I have 6 extra songs so I've been trying to get them to things like that, the tsunami relief kind of stuff, I think that's the way to go.
WHY DO YOU THINK THAT SO MANY OF THE PUNK ROCK FRONT MEN ARE TAKING THE FOLKY ACOUSTIC ROUTE RIGHT NOW?
TS:
I don't know.... there's really no logical explanation... people ask that all the time and I don't have a good answer, it seems really trendy! And I feel like I'm being trendy by doing it... but I'm trying to take it seriously, and it sounds weird because I know how I got here and I wouldn't be able to play shows in Toronto or anywhere without No Use For A Name so you have to know where you came from but at the same time you're constantly trying to get away from it. Like I play a lot of No Use songs in this set but I'm trying to slowly phase them out so that when I have a bunch of records... because I feel like I could put one of these solo records out once a year, it seems like for some reason things are just flowing right now creatively... *knock on wood*... but yeah I have no good answer for that, I don't know who did it first maybe like Chuck Ragan, I don't know... but I'm not going to grow a beard, I'm not going to grow a cowboy hat... or have a beard and wear my hood on my head! It could be that bands like mine somebody in the band wanted to do something else, I mean economically it's not the best time to be in a band so it could be a lot of that. Some people aren't in a position but singer/songwriters are.. I mean I have nothing else that I know how to do. Everybody else I know in a band has some other sort of skill... like our bass player can do cars, our drummer has a snow plow business.
SO YOU'RE SELF MANAGED RIGHT NOW DOES THAT ADD A LOT MORE WORK TO YOUR LOAD?
TS:
No, no not really, it's not so hard doing the acoustic things, I mean you take your backpack and your guitar and basically that's all you need to go on tour so it's pretty easy in that respect. I just try to, I don't know, it's not like No Use where you need a whole crew and you need a bunch of people helping you out, it's pretty low key. It's a lot of fun!
ALRIGHT LAST BUT NOT LEAST, WHY ARE YOU AND YOUR BAND SUCH HYPOCRITES? I MEAN YOUR BANDS NAME HAS BEEN 'NO USE FOR A NAME' FOR OVER 20 YEARS... HYPOCRITE!
TS:
That's a great question! I didn't make up the name so I had nothing to do with it!!! It's a terrible band name, it really is! It's too long to put on a shirt length-wise, it doesn't really mean anything. I would have been better off if it was just No Use the whole time, no use for a full name! I wasn't in the band when it was made so I can't put my stamp of approval on that! It's even worse now because it's 'Tony Sly from No Use For A Name' and it takes up the whole flyer.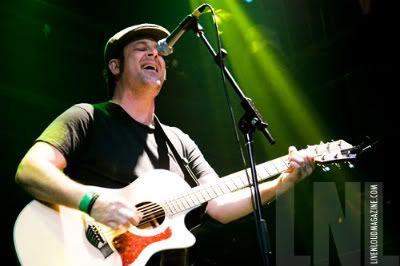 THANKS SO MUCH TO TONY SLY AND MELANIE KAYE!!!!!