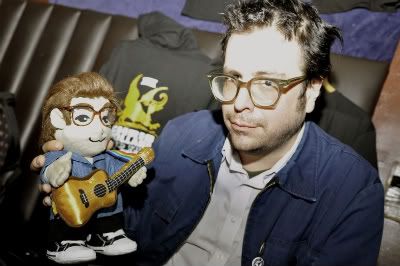 Excited to play Canada? During nice'ish weather, finally?
Looking forward to any city in particular?
Jon Snodgrass:
Yeah, for sure. I love it up there. Glad to return to MTL & Toronto and see new places. I wanna go waaaay way East next-next time. Next year that is. Hope to hit Vancouver this August, get back to Calgary again. Back west. It's a big world and hard to be everywhere all the time, ya know?
Do you have a preference when it comes to playing solo (with or without friends!) or with a band?
JS:
I like both. Alone is more challenging but I can also play any request pretty much. I like to rock and have buddies around too. I go with what can happen, I guess.
Have you lost the naked feeling you experienced when you first started performing solo or is that something that just sticks with you?
JS:
It depends on where you are, the time of day and how many drinks you've drank. yes & no.
Have you experienced any really terrible hecklers while performing on your own in the more intimate venues?
JS:
Not really. Don't jinx, please.
What style of music do you have the most fun writing? Is there a difference when it comes to recording it?
JS:
In the beginning it's all the same. I've written every song (except one) on my one and only ever acoustic gtr. that I've played for 23+ years. It just happens. It kinda depends on who you are tracking with as to where it can/will go. I just rough tracked 2 songs today at Brandon Carlie's house. He's in a punk band called 'Teenage Bottlerocket'. He played on the new 7in and it's a rock song. Stephen from the DESCENDENTS played on the same song. So yeah...rock song. And as for today's session, one of these is gonna be a rocker and the other will be too, if Brandon plays drums on it. But. I might leave it alone, maybe have a buddy play accordion on it. It's a dark, slow, 2 minute long song with no chorus. We'll see. It's like that. It could be done right now. We'll see.
What do you listen to usually?
JS:
my friends music. I'm diggin' this new 'Lenny Lashley's Gang of One' 7in right now. "Viva Rock & Roll".
You did a song for Music 4 Cancer, do you happen to know how much it has raised so far?
JS:
I dunno. It did good I think. Gonna see Jay soon though. I'm glad I was asked to do it.
I did an interview with Tony Sly a bit ago and he talked about how he keeps touring solo partly because he doesn't have anything else to do, other members of his band and others have additional jobs and hobbies on top of music, but a lot of the guys who don't are the ones who keep going in the solo direction.. is that true for you too?
JS:
Kinda. Yeah, I like to keep playing and not everyone in 'Drag the River' is available all the time. I also like to play with a lot of different people. You learn stuff that way. The 'Drag the River' full rock band is going up there in September though!!. So I get to do both in a short amount of time.
CHECK OUT JON'S CANADIAN TOUR DATES HERE!!
THANKS A BUNCH TO JON AND MELANIE!